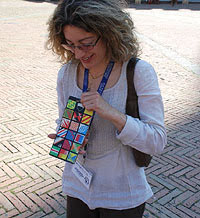 My name is Costanza Riccardi, I am both a city guide for Siena and its province and licensed nature walks guide, authorized by the present Regional law. I have been working as a guide for more than 20 years, for several Italian and American Companies.
I was born in Siena and raised in a nearby village in the Tuscan countryside, with a lot of cats and dogs, besides my grandparents, my parents and my brother. I have a degree in Natural Sciences and have lived in Siena all my life, except one year that I've spent in England, where I was doing a research in a National Park.
Siena, where is my home, is so rich in history and traditions that I have decided to enrich my education by studying art history and archaeology. I love to talk about any aspect of the place where I live: nature, art, history, local traditions, cuisine and good wines.
If you are eager to become familiar with this corner of Tuscany, come along and take a walk with a local and experienced guide, either in the countryside or in town, learning all about the wonders of Siena Cathedral and the secret life of Italian porcupines!